Na co dzień jestem osobą, która umie zrobić dosłownie wszystko.
Dla mnie po prostu nie ma rzeczy niemożliwych. Wystarczy dać mi cokolwiek z dostępem do internetu. Ewentualnie piłę, szlifierkę i trochę gwoździ.
Jednak jest coś, czego bez względu na ilość przyswajanej wiedzy nigdy nie będę umiała.
Są to przeróżne zabiegi kosmetyczne.
Moje umiejętności ograniczają się tu wyłącznie do malowania paznokci oraz delikatnego makijażu oczu. Cała reszta jest poza moim zasięgiem.
Tak właśnie było w przypadku brwi. Mogłam godzinami oglądać różne tutoriale, dotyczące depilacji i nadawania kształtu brwiom, nakładania henny i niewiadomo czego jeszcze. I nauczyłam się z nich tyle, ile nauczyłabym się po obejrzeniu filmu "jak przeszczepić serce". Niby wiem, że jest pęsetka, kredki, nitki i masa innych rzeczy, ale… Nic poza tym.
Dlatego postanowiłam przygotować dla Was nowy na moim blogu cykl See My Beauty!
Będzie on dotyczył nowoczesnych zabiegów i gabinetów (nie tylko) kosmetycznych, które oferują usługi dla tych z Was, które tak samo jak ja, nie do końca radzicie sobie z podkreśleniem własnego piękna. Nie chodzi mi jedynie o nieporadność, ale o chęć powierzenia danej czynności profesjonaliście, który umie znacznie więcej od nas.
W ramach pierwszego wpisu See My Beauty udałam się do salonu
Eyebar
w Warszawie.
Salon oferuje oczywiście manicure, codzienne układanie fryzury, makijaż, ale przede wszystkim usługę stylizacji brwi. Wcześniej nie słyszałam o czymś takim i pomyślałam, że może to być bardzo fajne doświadczenie.
Eyebar ma w Warszawie dwa salony: jeden na Postępu 14, drugi na Inflanckiej 4B.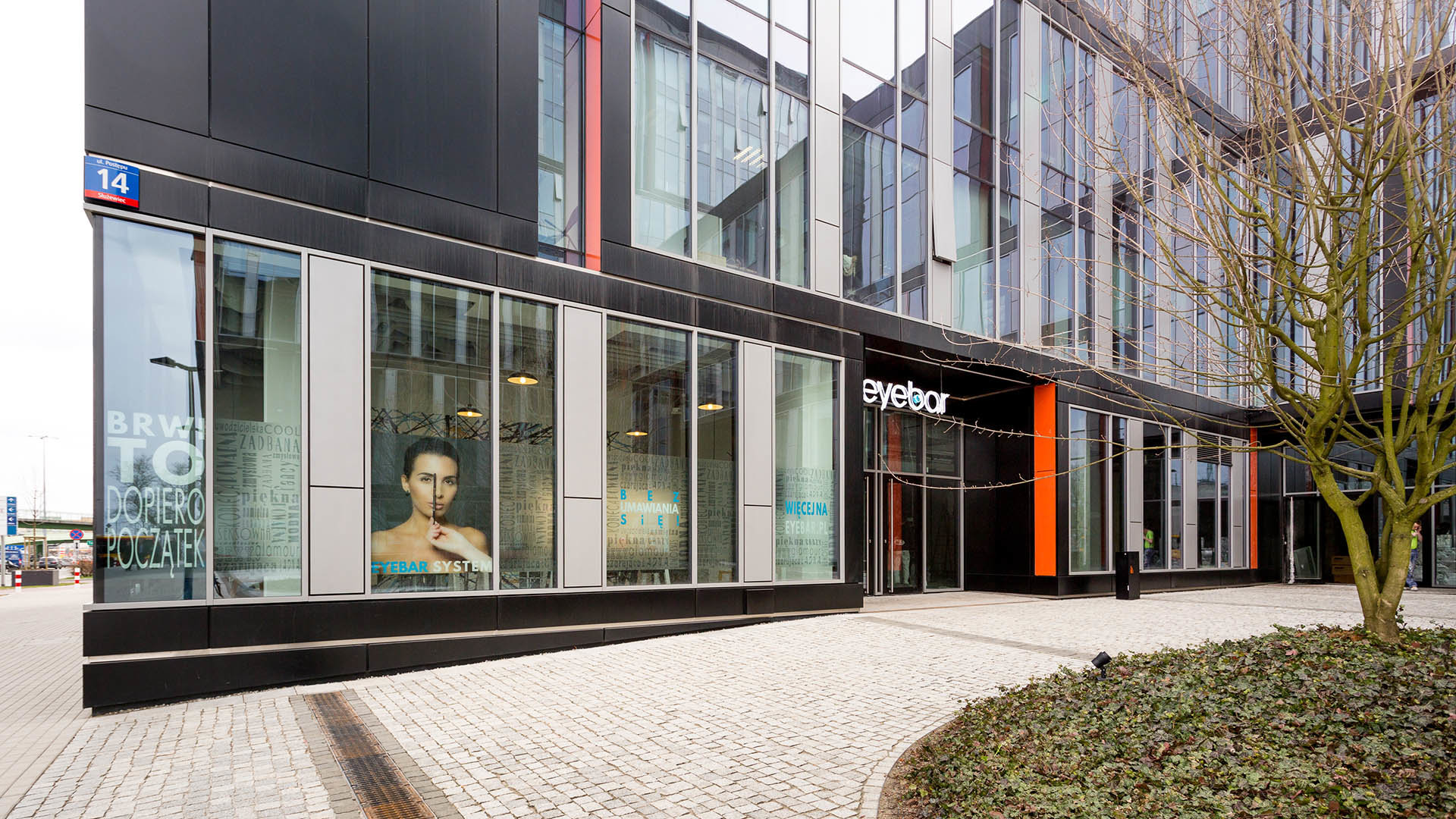 Eyebar ul. Postępu 14
Ja odwiedziłam ten pierwszy i już od progu przywitało mnie coś, co ogromnie lubię: ogromna ilość jasnych kolorów i światła. Salon jest bardzo nowoczesny, zadbany i, co najważniejsze, mimo wysokiej temperatury na zewnątrz, klimatyzacja nie była nastawiona na poziom "zabójczy". Myślę, że to ważna informacja zwłaszcza dla kobiet. Osobiście nienawidzę klimatyzacji nastawionej na temperaturę 10 stopni, kiedy na zewnątrz panuje 40-stopniowy upał.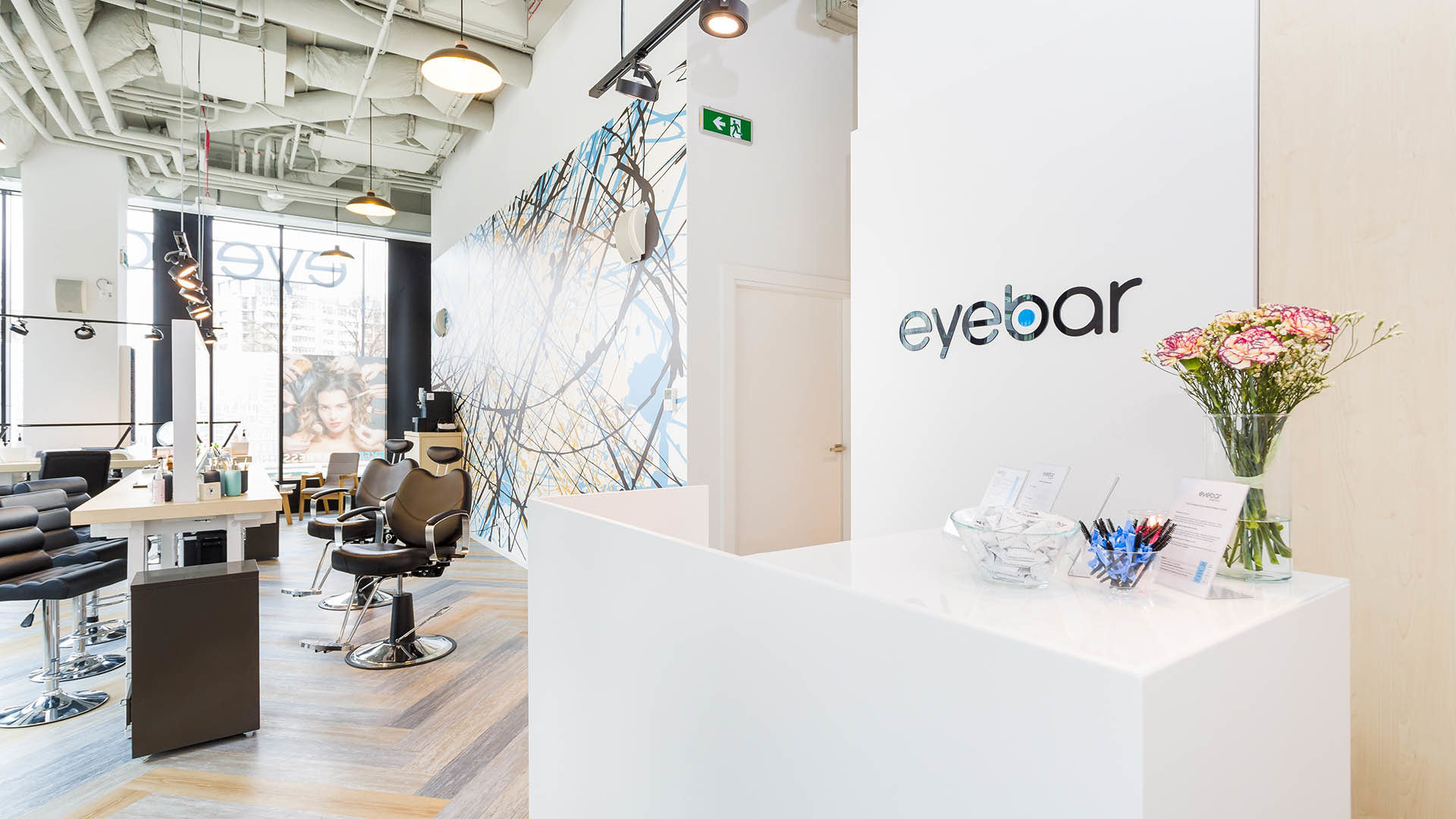 Wnętrze Eyebar, ul. Postępu 14
Podczas wizyty w Eyebar zdecydowałam się na usługę Eyebar System. Polega ona na perfekcyjnej stylizacji brwi w 5 krokach, opisanych na poniższym zdjęciu.
Zabieg wykonywała przemiła stylistka, pani Magda.
Na samym początku wytłumaczyła mi, jaki kształt brwi będzie dla mnie najbardziej odpowiedni, przechodząc do kroku nr 2, czyli mapowania. Ten krok, mający na celu dobór najlepszego do mojej twarzy kształtu brwi polegał na narysowaniu go czerwoną kredką. Bardzo fajnie to wyglądało, a mnie utwierdziło w przekonaniu, że czerwony nie jest moim kolorem 🙂
Krok 3 – nitkowanie. Zostanie chyba moim ulubionym etapem. W depilacji brwi nigdy nie lubiłam manualnego wyrywania pojedynczych włosków, ponieważ skóra na mojej twarzy w ich okolicach jest bardzo wrażliwa, a każdy taki zabieg kończył się u mnie strumieniami łez. Nitkowanie to usuwanie włosków za pomocą specjalnej nitki, które… Zupełnie nie boli? Uczucie, jakie mu towarzyszy określiłabym jako przejazd miniaturowej kosiarki po brwiach, których chcemy się pozbyć. Bezbolesne i baardzo szybkie!
Krok 4 – koloryzacja. Ze względu na to, że mam bardzo jasną karnację, moje brwi nie wymagały długiej koloryzacji. Wystarczyło kilka minut z brązowo-grafitową henną w żelu (żel sprawia, że farbują się tylko włoski i nie ma ryzyka zafarbowania skóry), aby uzyskać pożądany kolor. Zabieg spowodował, że nie muszę codziennie rano malować brwi, aby miały nieco ciemniejszy odcień.
Krok 5 – makijaż. Wbrew temu, co mi się wydawało, wcale nie trzeba ciemnych cieni lub kredek do tego, żeby podkreślić brwi. W moim wypadku wystarczyła jasnobrązowa kredka do włosów blond. Jak dla mnie – szok, ale pozytywny 🙂 Od teraz używam tylko takiej.
A tak prezentują się moje nowe brwi. Jak widzicie są cieńsze niż dotychczasowe i odrobinę jaśniejsze. Super się z nimi czuję.
Sama wizyta razem z oczekiwaniem trwała nie więcej niż 30 minut, a usługa Eyebar System około kilkunastu minut.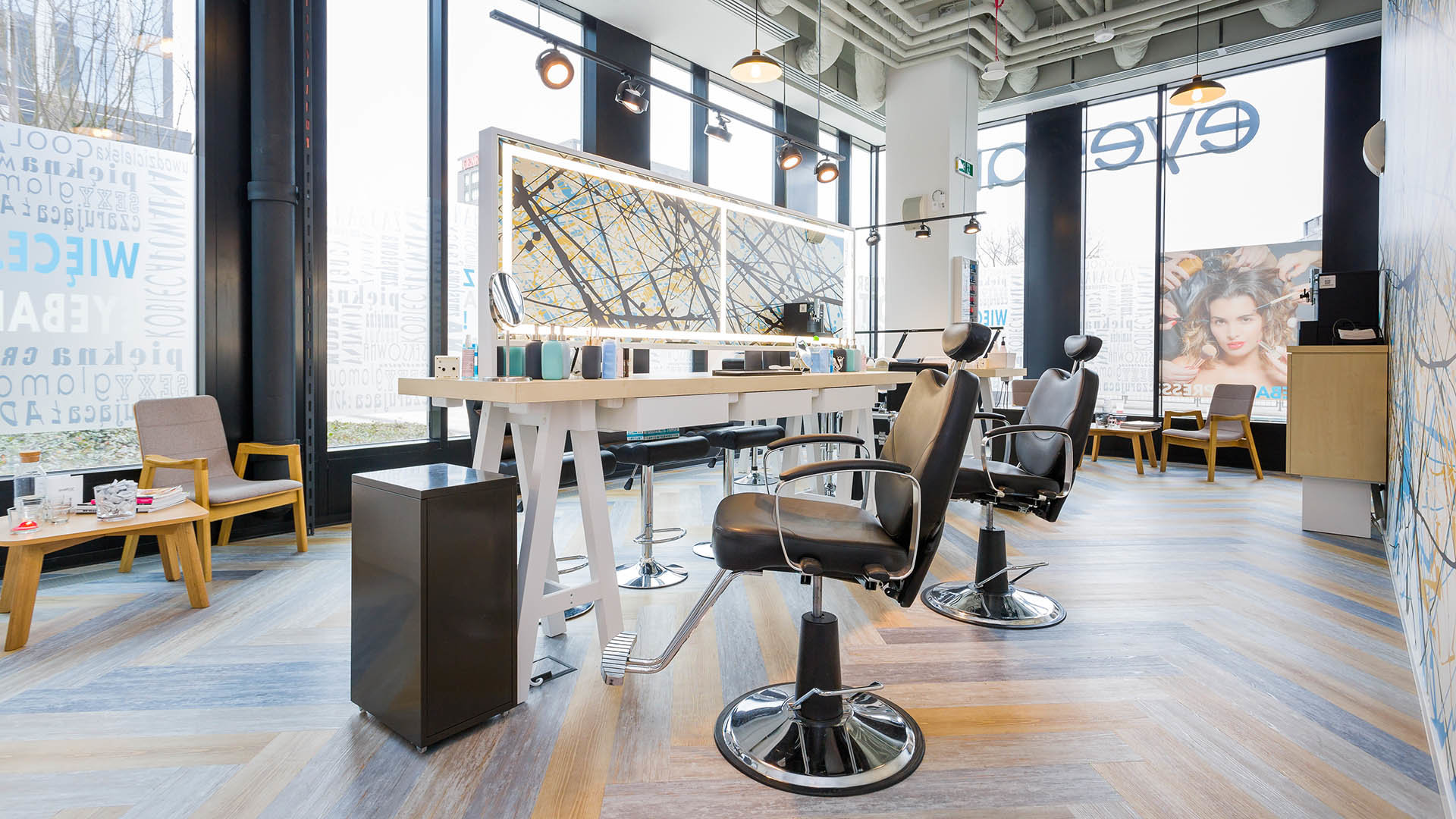 Wnętrze Eyebar, ul. Postępu 14
Koszt usługi: 69 złotych (z kartą Eyebar 49 złotych)
Czas trwania: kilkanaście minut
Ile utrzymują się efekty: w zależności od tempa wzrostu brwi
Atmosfera w salonie: sympatyczna, spokojna.
Pracują w nim świetne dziewczyny, bardzo zaangażowane w swoją pracę
Klimatyzacja: sympatyczna, nie zabija. Latem można wejść tam w najlżejszej sukience
Dla kogo jest ta usługa? Dla każdego, kto chce zadbać o swoje brwi, a nie ma na to czasu lub tak jak ja nie chce ich zepsuć. Dla osób, które chcą dowiedzieć się o brwiach czegoś więcej, znaleźć swój idealny kształt. Co ciekawe, usługa dostępna jest także dla mężczyzn (w niższej cenie).
Jestem ogromnie zadowolona. Taki szybki zabieg zmienił tak wiele.
Adres i kontakt:
ul. Inflancka 4B / ul. Postępu 14
nr telefonu: +48 22 101 72 71
ENGLISH
I am the person who is literally capable of doing everything.
For me impossible just doesn't exist. Just give me a laptop or phone with the internet. Alternatively, saw, a grinder and some nails.
But there is something that no matter how much knowledge I can learn, I will never know.
These are a variety of beauty treatments.
My skills are limited to nail polishing and gentle make-up. All the rest is beyond my reach.
That was the case with eyebrows. I could watch the various tutorials concerning epilation and eyebrow shaping, henna applying and everything else. And I learned from them as much as I would learn after watching the movie "how to transplant the heart." I know that there are tweezers, threads and lots of other stuff, but… nothing else.
That's why I decided to create a new See My Beauty series on my blog!
It will be about modern treatments and beauty studios, which offer services to those of you who, like me, are not entirely sure about what to do with your own beauty. I mean also a willingness to entrust yourself to a professional who knows a lot more than us.
As part of the first entry See My Beauty I went to the Eyebar salon in Warsaw.
Of course, the salon offers manicure, daily hairstyle, make-up, but first of all eyebrow styling. I did not hear anything like that before, and I thought it might be a very cool experience.
Eyebar has two salons in Warsaw: one at Postępu 14, the other at Inflancka 4B.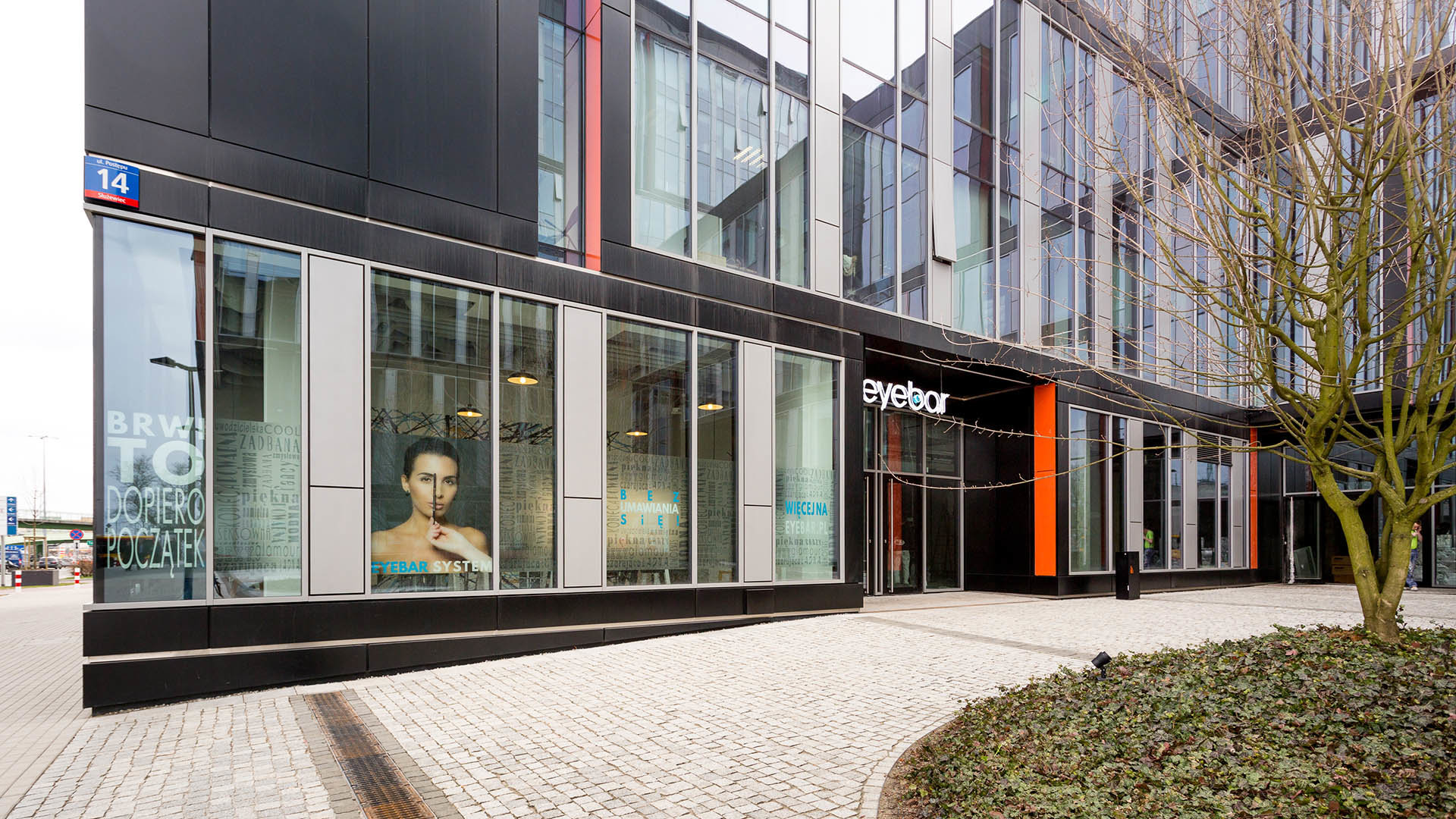 Eyebar Postępu 14 street
I visited the first one and from the threshold I saw something I really love: a huge amount of bright colors and light. The salon is very modern, well maintained and, most importantly, despite the high outside temperature, the air conditioning was not set on the "killer" level. I think this is important information especially for women. Personally, I hate air conditioning set at 10 degrees when outside is like 40 degrees.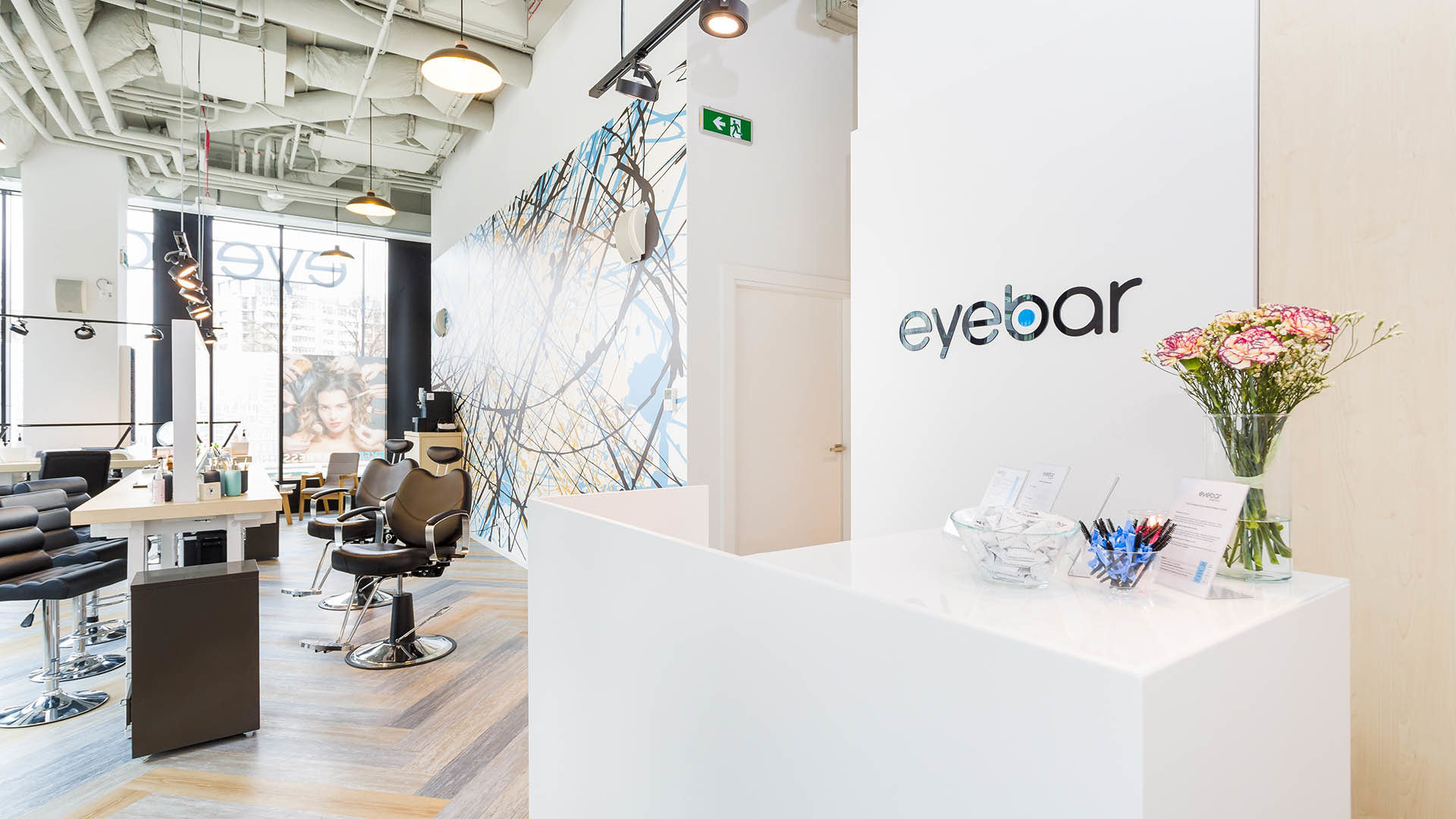 Eyebar, Postępu 14 street
During my visit to Eyebar I decided to use the Eyebar System. It consists of the perfect eyebrow styling in 5 steps.
Eyebar System was done by an amazing stylist, Magda.
At the very beginning she explained to me what kind of eyebrows would be most suitable for me, going to step 2 – mapping. This step, aimed at selecting the best eyebrow shape for my face. It ended with drawing my new eyebrows by red pencil
. It was very cool and it confirmed me that red is not my color 🙂
Step 3 – threading. It is my favorite stage. In epilating my eyebrows I never liked manual removal of individual hairs, because the skin on my face is very sensitive, and each such treatment ended with tears streams. Threading is the removal of hairs with a special thread that … Does not hurt at all? The feeling that I would associate with him would be the passing of a miniature mower on the hair that we wanted to get rid of. Painless and fast!
Step 4 – coloring. Due to the fact that I have very fair complexion, my eyebrows did not require long and deep coloring. Just a few minutes with brown-graphite henna in the gel (gel makes only the hair dye and there is no risk of dyeing the skin) to get the desired color. The treatment made me not have to paint my eyebrows every morning to have a slightly darker shade.
Step 5 – make up. Contrary to what I thought, dark shadows or pencils do not need to be dark to emphasize eyebrows. In my case, a light blonde blonde crayon was enough. As for me – shock, but positive 🙂 From now on I only use this.
And this is how my new eyebrows look like. As you see, they are thinner than before and a bit brighter. I feel good with them.
The visit alone with the waiting lasted no more than 30 minutes, and the Eyebar System service for about a dozen minutes.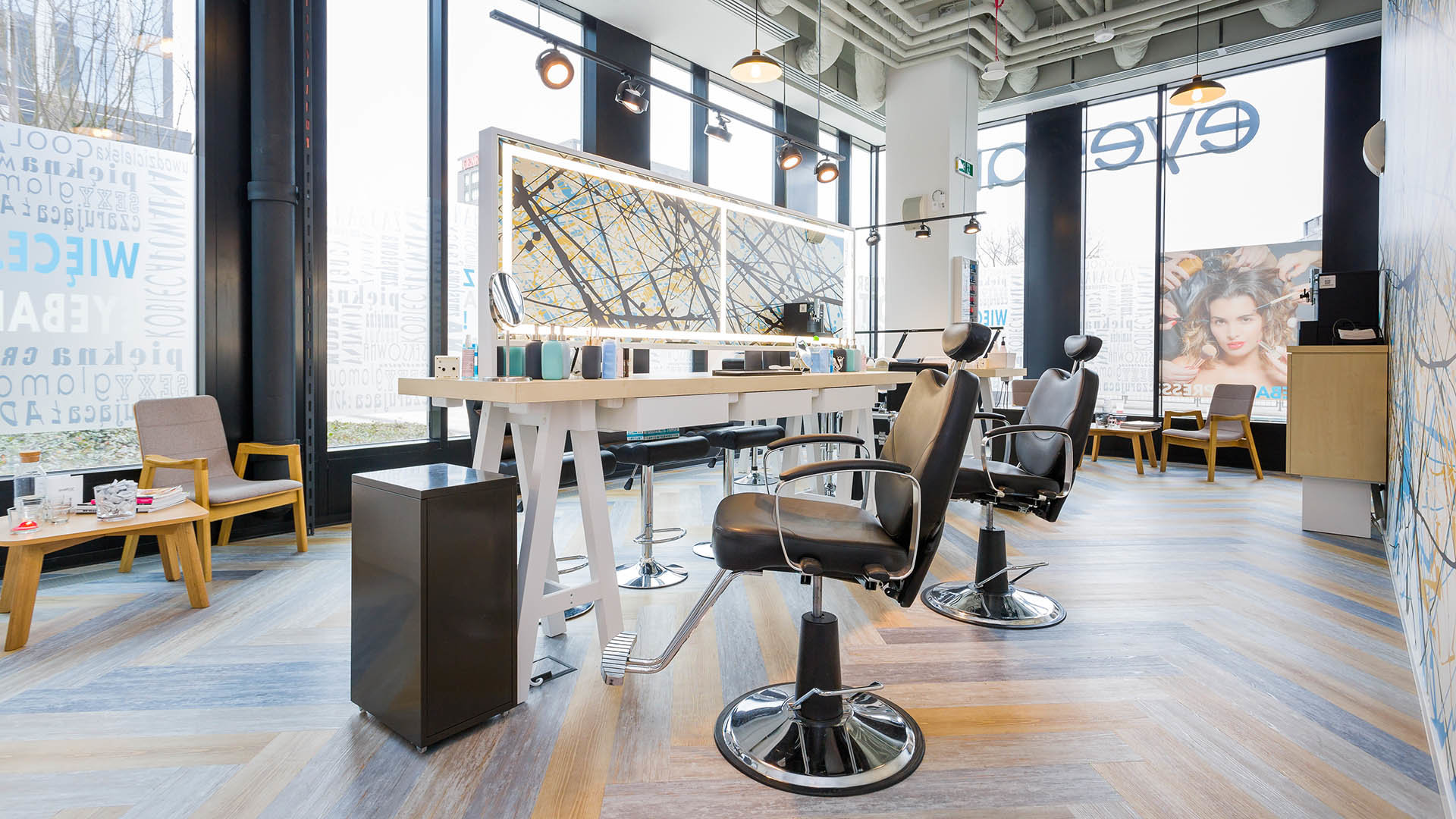 Eyebar, Postępu 14 street
The facts about the Eyebar visit
Cost of service: 69 zl (with Eyebar card 49 zl)
Duration: several minutes
How long are the effects persisted: depending on the growth rate of eyebrows
Atmosphere: nice, calm.
There are great stuff working at Eyebar, very engaged in their work
Air conditioning: nice, not killing. In the Summer you can go in the thinnest dress
Who is this service for? For anyone who wants to take care of their eyebrows, and there is no time for it or like I do not want to spoil them. For those who want to learn more about eyebrows, find your perfect shape. Interestingly, the service is also available for men (at a lower price).
I am extremely satisfied. Such a quick vistit has changed so much.
Inflancka 4B / Progress 14
Phone number: +48 22 101 72 71